ODENT Orthodontic and Implant Centre are dental clinics specialising in state-of-the-art treatments provided to patients at any age.
We wish to provide you with attentive, professional and comprehensive dental care at the highest world-class level.
An experienced and highly qualified medical team
State-of-the-art diagnostics and treatment technologies
World-class equipment
Materials of the global leaders in the dental industry
Professional sterilisation of the instruments
Professional X-ray lab
Professional management of the treatment process – tailored to the patient's needs and abilities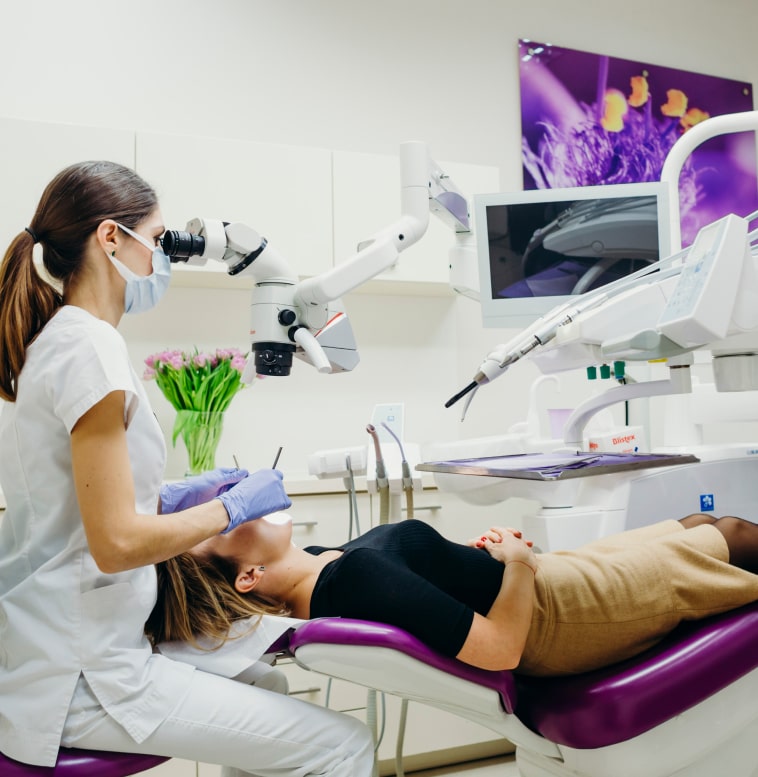 We guarantee to them professional care and dental treatment. We have a safe dental anaesthetic dedicated to expectant mothers.
Our Centre is friendly to families with children.
We provide comprehensive dental treatment services for adults and children, in all dental fields.
We are prepared to deal with little patients: during the treatment provided to a child we show a movie for children on the screen over the dentist chair.
We have a baby changing table.
We also offer disposable diapers and wipes.
Thanks to Wi-Fi access free of charge, you will be able to read the news or check your e-mails.
We have a playroom for children.
We also offer toys, books, drawing board, and a TV set with channels for children.
There is a PlayStation in the playroom with access to many games,
and a TV set in the main hall and every waiting room.
We provide access to current press.
Cosy waiting rooms give a sense of comfort, quiet and calm.
Our offices are well-adapted for patients with disabilities.
Our X-ray machine (panoramic and cephalometric radiographs, single-tooth X-rays) is adapted for disabled patients.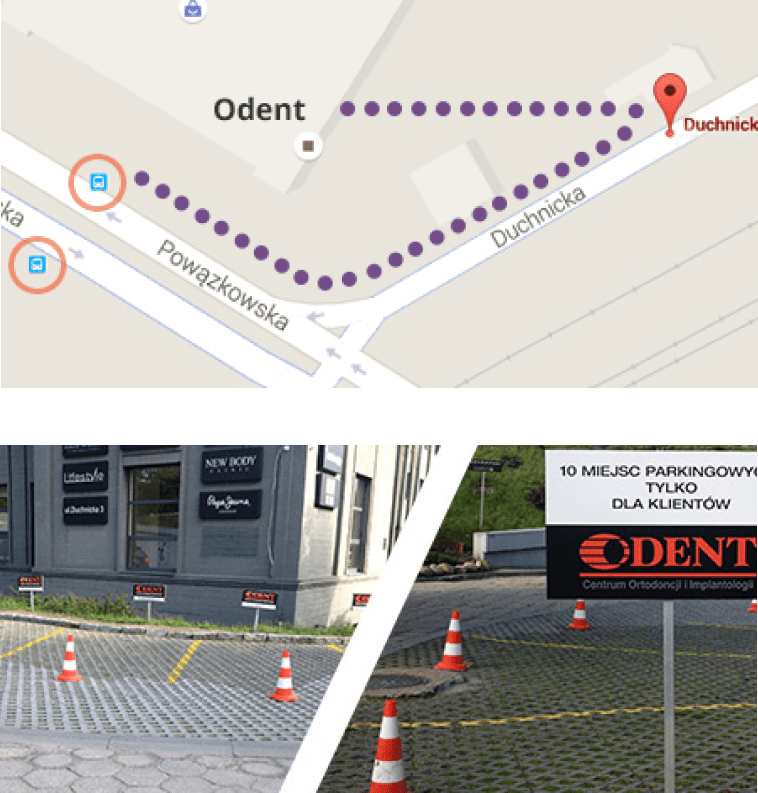 Public transport directions:
Subway: Dworzec Gdański. Tramwaj Tram no.1 from the tram stop in the direction of ul. Banacha, 2nd stop (ul. Powązkowska). Autobus Bus no. 180 from the bus stop in the direction of Chomiczówka. Get off at the 2nd stop at ul.Duchnicka 3 (request stop)
Parking spaces for clinic patients
There are 10 parking spaces available for our patients, next to the entrance to the Clinic building. There are bollards in the places, please put the bollard down and drive to the parking space marked for ODENT patients. After leaving, please put the cone to a parking space.
ODENT address
Duchnicka Street 3, Warsaw
Defabryka, building 4, entrance A
Opening hours
pon.-pt. 8.00-21.00
sobota 8.00-15.00
Access to medical documentation
Access to patient's medical documentation at ODENT Orthodontic and Implant Centre:
At the Patient's request, we provide access to medical documentation within 7 days as of the date of filing the request.
The copy or extract from the medical documentation is provided based on the request of the patient or legal guardian filed on a special form.
REQUEST FOR ACCESS TO INDIVIDUAL MEDICAL DOCUMENTATION
Medical documentation is provided to the patient, patient's legal guardian or a person authorised by the patient. During the first visit at ODENT Orthodontic and Implant Centre, the patient files the authorisation for a close relative to obtain information about the patient's health condition and provided medical services and to obtain medical documentation.
Bank transfer
ODENT sp. z o.o.
Ul. Duchnicka 3, 01-796 Warszawa
Bank account No.:
BZWBK 75 1090 1030 0000 0001 3278 6420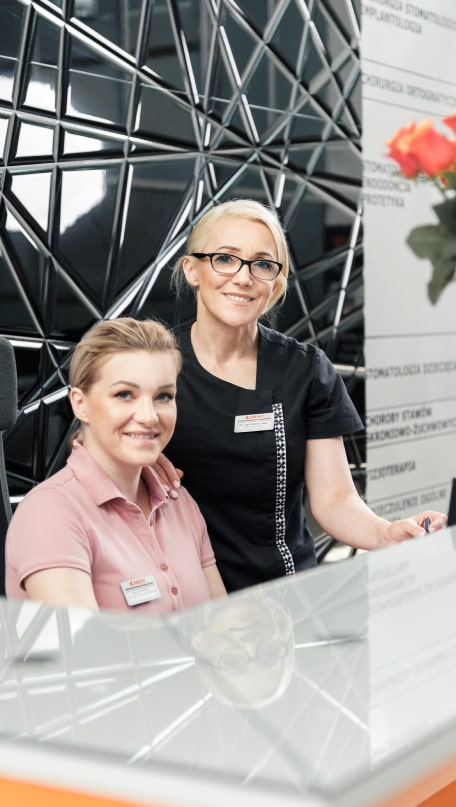 After completing the form, we will respond within 60 minutes during the clinic's working hours.