Treatment of teeth under anaesthesia
We professionally treat teeth with a root canal, using an endodontic microscope,
thanks to which the treatment is effective and applied at the right moment allows you to save the tooth.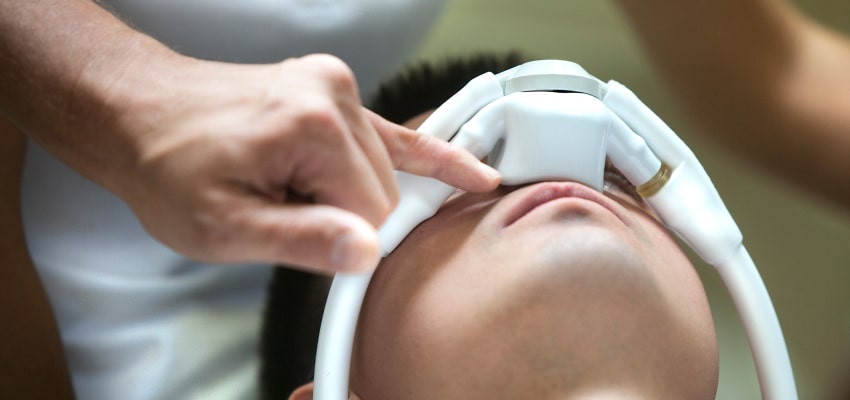 For patients who are particularly afraid of dental treatment and are sensitive to pain, we offer dental treatment under anesthesia or sedation with nitrous oxide - laughing gas.
We provide services in the field of:
dental surgery
implantology
conservative dentistry
pediatric dentistry
Treatments using
nitrous oxide - laughing gas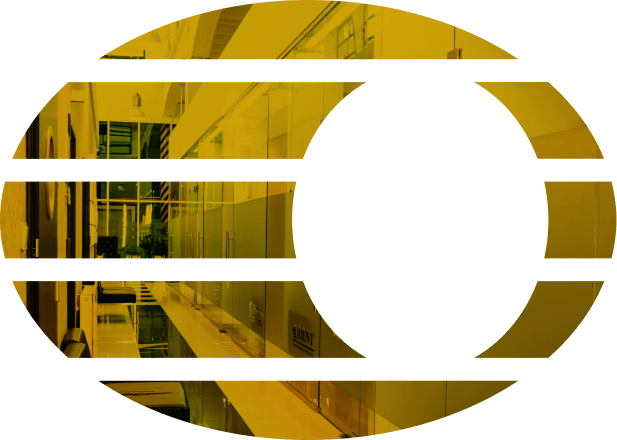 Nitrous oxide is used as a supplement to The Wand anesthesia during dental treatment.

Treatments with the use of laughing gas are used in both children and adults.
Principles of inhalation sedation with nitrous oxide:
Objectives and methods of performing the procedure:
Sedation is a state of limited level of consciousness induced by pharmacological methods, it allows the patient to maintain reactions appropriate to physical stimuli or verbal commands. It consists in administering a mixture of gases: oxygen and nitrous oxide through a mask placed on the nose.
The patient under sedation is relaxed, does not feel fear, despite the fact that he has limited orientation and reduced ability to concentrate, cooperates with the dentist performing the procedure. After the procedure, the patient returns to full consciousness very quickly.
After the procedure, the patient returns to full consciousness very quickly.
Recommendations before inhalation sedation:
Do not eat solid food for a minimum of 3 hours prior to sedation
Do not consume fluids for a minimum of 3 hours prior to sedation
Alternative treatments:
Psychotherapy
Natural medicine methods that allow you to reduce the feeling of stress and pain, i.e. acupressure, reflexology, aromatherapy.
Oral pharmacological sedation – e.g. in the form of tablets or syrups
Computer local anesthesia The Wand
General anesthesia – full anesthesia
Indications for inhalation sedation with nitrous oxide:
Strong fear of dental treatment
Increased gag reflex
Nervous hyperactivity
All diagnostic and therapeutic procedures with anticipated unpleasant patient sensations
Contraindications to inhalation sedation with nitrous oxide:
Catarrh of the upper respiratory tract
Problems with the patency of the nasal airway (runny nose, pharyngitis, otitis, sinusitis)
Tonsillar hyperplasia and related oral respiratory track
Eating a meal immediately before the procedure
Lung diseases (e.g. bronchiectasis, emphysema), cystic fibrosis
Drug addiction, alcoholism, psychosis
Congenital heart defect
Multiple sclerosis, porphyria, myasthenia gravis
Pregnancy
Unwillingness to cooperate when breathing through a mask on the part of the patient.
Negative consequences and possible complications:
Nausea and vomiting – most often in the case of eating a meal before the sedation procedure
Dizziness and balance disorders
Headache after sedation
Retrograde amnesia/delusions of experiences that did not happen 
Behavior during the procedure:
The nose mask must be tight and remain in place throughout the sedation period
Do not breathe through your mouth – only breathe through your nose
Do not speak during sedation (nitrous oxide is removed through the mouth, which reduces its potency)
Post-treatment modalities:
After sedation, the patient remains under the observation of a dentist in the waiting room for about 10 minutes. After this period of time, there are no contraindications to driving and operating precision machines.
Anesthesia, causing sleep, deprives the feeling of pain.
In order to perform anesthesia, it is usually necessary to insert a special needle into a vein in the forearm. It is through this needle that all the drugs necessary for sleep are administered. When the patient falls asleep, a tube is inserted into the windpipe to ensure proper breathing, which is removed just before the patient wakes up.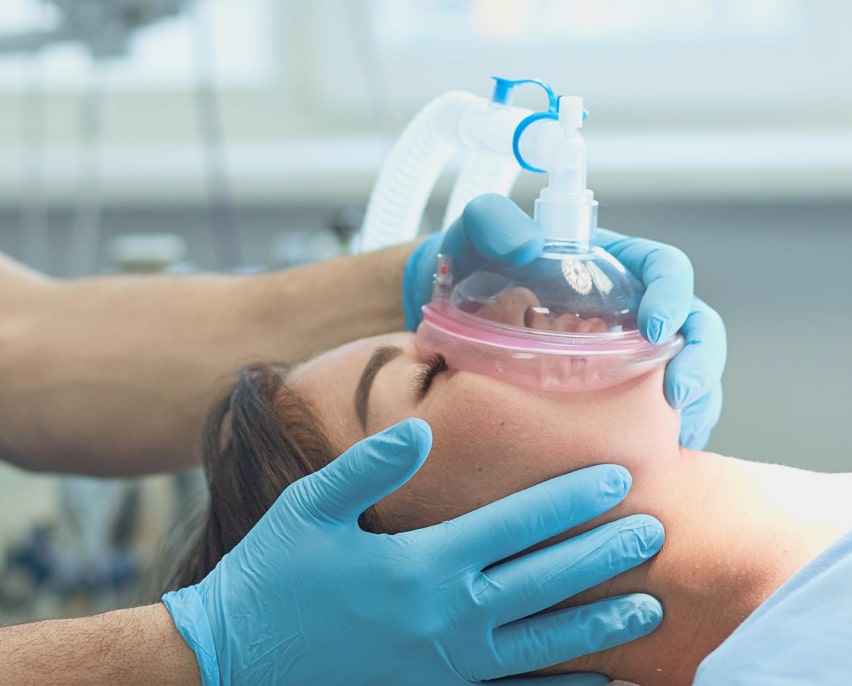 The purpose of general anesthesia (anesthesia) is to ensure patient comfort and safe performance of the necessary procedure.
Teeth treatment under anesthesia is completely safe and recommended primarily to those people who are very sensitive to pain, and dental treatment is very fearful for them.
A patient who decides to undergo a procedure under general anesthesia first consults a dentist who will perform the procedure, then consults an anesthesiologist who provides information on general anesthesia. The anesthesiologist will answer all your disturbing questions, explain in detail the course of the entire procedure, and refer you to the examinations necessary to carry out such a procedure.
During the procedure, when the patient is asleep, the anesthesiologist, using special equipment, monitors the functioning of important vital functions, i.e. breathing and heart rate, while the dentist performs the procedure.
On the day of the dental procedure under general anesthesia, please remember:
You must not eat anything for 6 hours and drink liquids 2 hours before anesthesia
You should ensure the assistance of an adult who will take you home after the procedure
Please take the medications you take daily at the usual time with only one sip of plain boiled water, unless your doctor has told you otherwise. If in doubt, please contact the anesthetist.
Makeup must not be worn
Remove nail polish
Please leave jewelry and large cash at home
You must provide yourself with a suitable means of transport (car, taxi)
Teeth treatment under anesthesia – are there any contraindications?
Yes, and they are detected during the medical history. Treatment of teeth under anesthesia is not possible if the patient is allergic to any of the agents used for anesthesia or has a serious respiratory disease. Other contraindications may also include diabetes, heart or kidney disease.

In case of any questions or doubts, we encourage you to contact our Warsaw Dental Center directly – we will answer all your questions, thanks to which the treatment of teeth under anesthesia or a specific procedure will no longer be a mystery to you.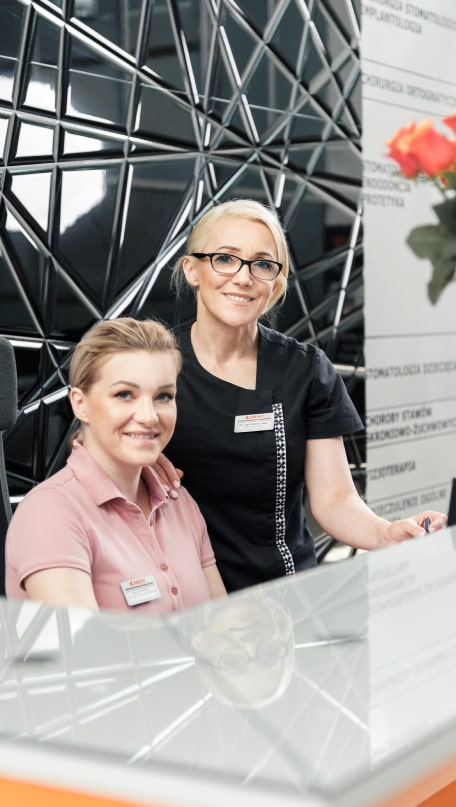 Once you have completed the form, we will respond within 60 minutes during clinic hours.