ODENT Medical Center in Warsaw employs dentists specialising in child dentistry.
Our doctors are known for their great patience, kind heart and talent for working with children.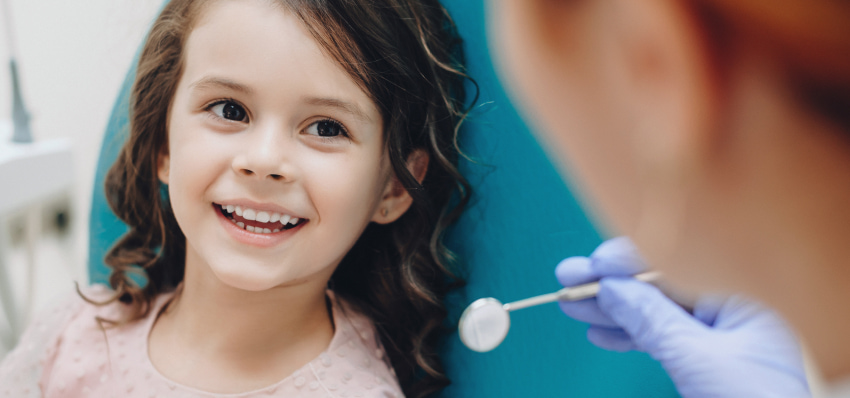 Our doctors are able to perceive and understand the reactions and needs of a little patient. They are aware that a child is not a "little adult" and know that dentistry for children requires a special approach.
We know very well that a good child dentist is a real treasure and that is why our doctors are characterised by empathy, great sense of humour and a good grasp of child's psychology, so that every child would feel safe and comfortable during the procedure.
We invite you to use our services
Offer
pediatric dentistry
The right approach
a paediatric dentist is essential!
We treat children under painless, computer-controlled local anaesthesia – THE WAND. We also offer fillings in various colours – our little patients may choose whichever colour they like. During the treatment, a movie for children is played on the screen over the dentist chair.
Children may also play in a playroom with many attractions: TV with child channels, toys, writing board, books and colouring books.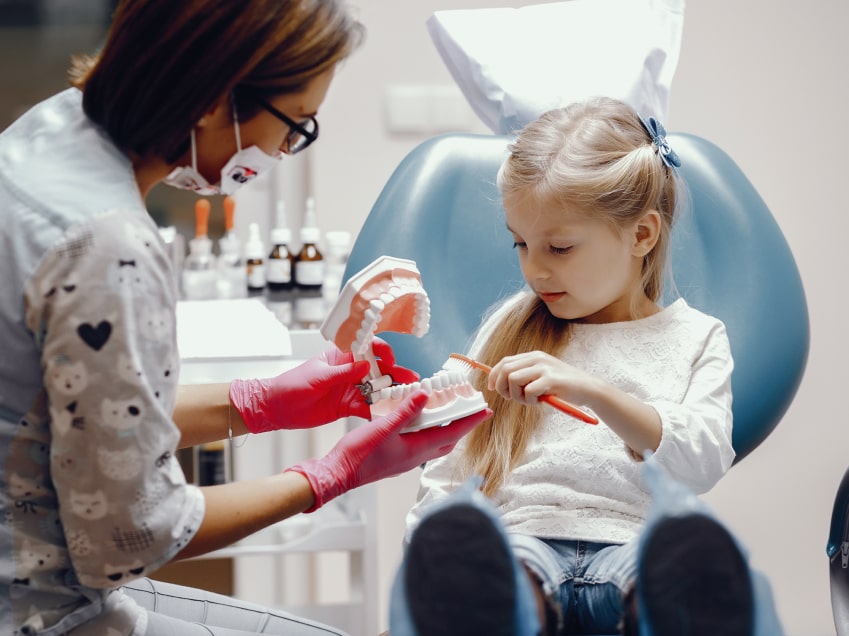 Professional dental treatment for children
Children are undoubtedly the most precious treasure in every family.. 
Every parent wants their child to be healthy, strong and to have a beautiful smile and healthy teeth.
Brushing alone will not ensure 100% effect, which is why systematic appointments with a dentist are so important.
After each visit, the child receives a gift for brave behavior as a reward!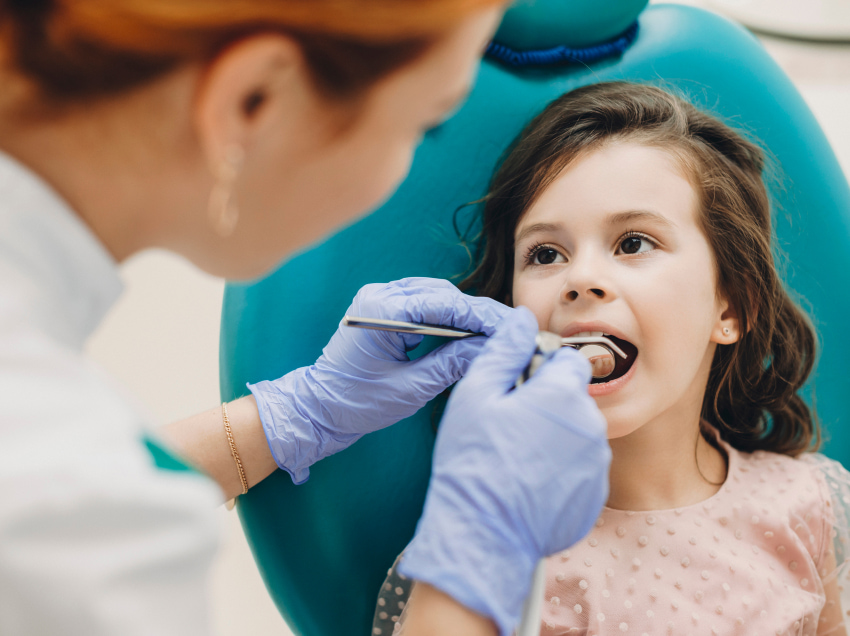 Which treatments
we offer
young
Patients?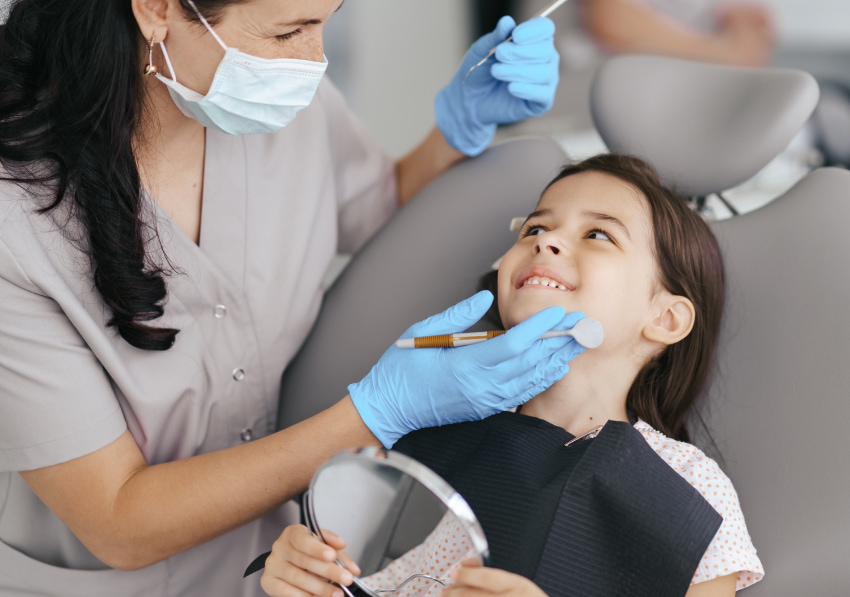 A pediatric dentist in Warsaw, taking care of the needs of small patients and being aware of the variety of problems that may occur, is able to offer a wide range of services - both in terms of prophylaxis as well as advanced treatments - including surgical

A pediatric dentist working at ODENT deals with, among others:
fillings in milk teeth,
trimming the frenulum of the lips (upper and lower), as well as the tongue,
sealing molars and premolars,
milk tooth extractions,
root canal treatment,
dental checkup.
Of course, every parent has the opportunity to take advantage of an adaptation visit - it is an extremely important element of the child's education and building trust in a specialist doctor. During such a visit, the dentist does not carry out any procedures, but only checks the condition of the child's teeth - thanks to this, there is no question of any discomfort that could alienate the child from the specialist.

What's more - the visit takes place in the aforementioned colorful office, and before and after it, the toddler can use the playroom, which will convince him even better that a pediatric dentist in Warsaw is a man who can be trusted and whom he does not have to be afraid.

If you want to avoid your child's reluctance and stress before visiting the dentist, it is worth taking care of his education in this area from an early age. First of all, you should encourage a visit, talk about the dentist's work in superlatives and do not say negative words, such as "pain", "operation" or "injection". Then it will be easier to persuade the little Patient to visit the dental office.

Of course, according to the principle "prevention is better than cure", a pediatric dentist in Warsaw will tell you what dental prophylaxis should look like and what to pay special attention to - both in the case of small and older children.
Not only
paediatric dentistry!
The ODENT Medical Center in Warsaw offers not only the services of a pediatric dentist, but also professional orthodontic treatment. Thanks to it, it is possible to eliminate various types of problems with the bite and teeth of the child, such as:
Each of these problems can be eliminated thanks to the braces offered by our Warsaw orthodontist. Of course, procedures in this area are also painless and do not cause any discomfort, so your child will feel completely safe. Each orthodontic treatment is carried out after previous examinations, thanks to which we are sure what the problem is and how to determine the treatment plan so that it brings the right effect.
We invite you to check the price list of dental and orthodontic services, and in case of any questions - to contact our ODENT Medical Center directly. We will give your children the care they deserve!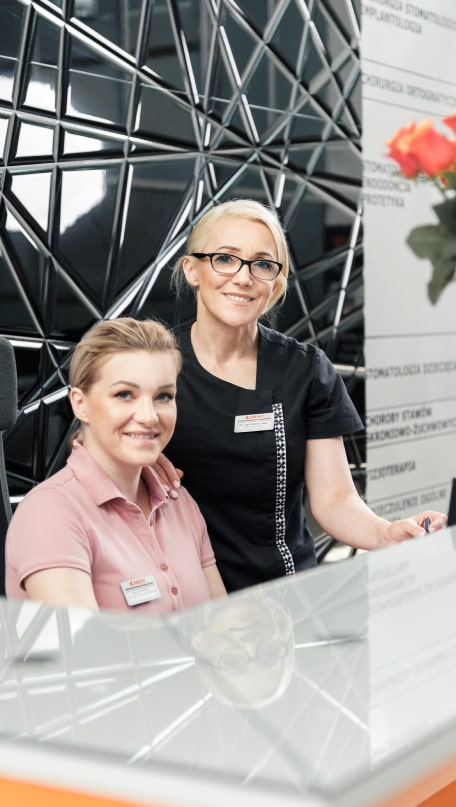 Once you have completed the form, we will respond within 60 minutes during clinic hours.